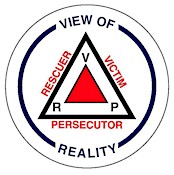 Guide your mouse over this image for links.
VRP View Of Reality
---
The Victim-Rescuer-Persecutor approach to speaking and thinking activates the amygdala in the human brain to see the world and oneself in an on-going fight-or flight drama of right vs. wrong, good vs. bad, should vs. should not. The focus of VRP thinking and speaking is to "be right" and dominate rather than to "be" and reach concensus.

Stephen B. Karpman, M.D. was the first to identify the "Drama Triangle": Karpman, S. (1968). Fairy tales and script drama analysis. Transactional Analysis Bulletin, 7(26), 39-43.
| | | |
| --- | --- | --- |
| VRP: You should have told me what you did, and the fact that you didn't proves that you don't care. more | | Green: The first I heard about the action was the next day. I felt hurt. I would like you to tell me ahead of time if you decide to do it again. more |
| | | |
| --- | --- | --- |
| VRP: I don't feel cared for by you the way you don't listen. more | | Green: When you walked out of the room while I was answering your question, I felt frustrated and hurt. more |
| | | |
| --- | --- | --- |
| VRP: I don't want you to leave before I'm finished. more | | Green: I want (or, "would like") you to stay with me while I put away the lawn mower. more |
| | | |
| --- | --- | --- |
| VRP: It would be nice if you would do your chores before you ask your mother if you could go play. more | | Green: I would like you to complete the chores on your daily list before you ask your mother if you could go play. more |
| | | |
| --- | --- | --- |
| VRP: I need to give you the key before I forget. more | | Green: I want to give you the key while I am remembering. more |
| | | |
| --- | --- | --- |
| VRP: Don't take your eyes off the ball! more | | Green: Watch the ball all the way into your hands! more |
| | | |
| --- | --- | --- |
| VRP: I feel a loss of control and a loss of value since this illness. more | | Green: I'm afraid that I will be viewed as a weaker individual by my family, my friends, my colleagues, and, even . . . myself. more |
| | | |
| --- | --- | --- |
| VRP: Why couldn't this have happened to me at a time in my life when I would have expected a lot more health problems!? more | | Green: I'm baffled why this happened out of the blue since I've been so healthy with good habits and used to working as much as I have. more |